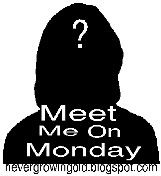 1. How many TV's do you have in your home?
Four
2. What is on your bedside table (nightstand)?
A fan, a lamp and a book
3. How many pair of shoes do you own?
Maybe 5 or 6 here. I have quite of few pairs still at my mom's house in Tennessee
4. Can you change a flat tire?
Yup, but I hate doing it lol
5. Do you prefer sweet treats or salty treats?
Most definitely sweet!