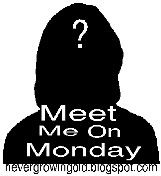 1. Do your pants get hung on a hangar or folded?
Folded.
2. If you are stranded on an Island, what 3 things would you need to have with you (not including humans or electronic devices)?
My makeup/hygiene bag.
Clothes
Bottles of Fruit2O in any flavor
3. Where is the farthest you have ever traveled to?
New Mexico
4. Do you live in a house, trailer or apartment, etc.?
a house
5. What is your most hated household chore?
Most definitely dishes...thank god for the dishwasher!!