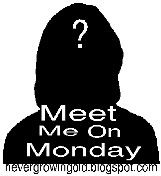 1. Do you sleep with a night light on?
No. I need the room to be dark so I can fall asleep. I do, however, sleep with the radio or iPod going.
2. What do you drink with dinner?
Green Tea or flavored water....every once in a while I'll go for a soda.
3. Do you play the lottery? If so, how often?
I buy a scratch ticket every once in a while.
4. How often do you go to the grocery store?
Maybe once a week, and that's for milk & bread. All of the big stuff is bought in bulk at the beginning of the month from Sam's Club.
5. Would you rather travel back in time 500 years or travel forward 500 years?
Forward...I'd like to see if the world is going to make it another 500 years.